Joined

Feb 13, 2021
Messages

37
Reaction score

53
Server

Asia_1
Main Char

Ferrari FXX
Clan

-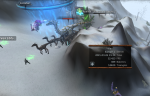 I don't know how to explain that. But here's my input.
Basically players have found out that the best way to kill the Monster Coelo is to put it on a high level and try to let it stay there.. while it's up, the normal Coelo won't come down and won't do much damage.. basically it involves, an object in between player and mobs in order to kill it.
But in this screen, it happen that the Coelo just wouldn't go back to it's spawn point. It moved when a player from below attacked it then the monster Coelo followed the player.
Also, i think there's an issue, where the normal Coelo would follow players from a long distance.
For example: This monster Coelo spawned down the hill where the Smilodons are located. The normal Coelo are able to run behind me till the level 55 Easter NPC. I don't really think that it was intended that the normal Coelo follow players to such distance, please check!
Last edited: