Joined

Jun 9, 2020
Messages

4
Reaction score

13
Server

America_2
Main Char

.P E S A D E L O.
Clan

Olympos Of Death
Hello good morning, good afternoon and good night how are you?
Well today I came to talk about a subject that runs until today in the game, the update on everyone being able to catch the
rex
, my question and when? and how will it be? But my opinion would be that the rex would be very undervalued... not only my opinion but that of many, for that you could add a new dino, it's been so long since anky was released and everyone was so excited about the launch before of the new dino!

Many talk about ''the great''
spinosaurus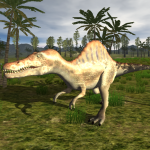 Well I think everyone was surprised if the
spinosaurus
came, a very cool dino that most people think is cool, but I also want everyone's opinion in the comments!
if the spino was added in the game I would think it would be a good idea to also add a part with water, for example a river with fish that would be in dinoville where the spino would eat the fish if he fed and drink water, this would recover his life and other dinos , for example Brachiosaurus would eat tree leaves in
Maujak Mountains
and recover its
health
.
My other idea would be to add an ''old'' book where I would talk about the types of dinosaurs or how to tame them in that instead of buying all the dinos with stones you could add tranquilizers to the game where it would be bought for coins to tame these dinosaurs that would be with food. or the ranger could get off the dino and at the same run from the dino while shooting at it with his weapons, it would be an amazing experience to see the big dino and to see him very small running after us.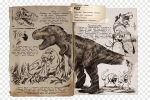 Another idea would be to add more animals to the games to hunt where I would drop items to make tranquilizers that would be to tame the dinos instead of buying with stones, a lot of players don't live in wars and like to hunt I see this in many and sometimes and a lot boring just keep hunting the same animals just to earn dino dollars.

One of those dino would be the beaver that stay in snowy environments and it would make a lot of sense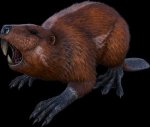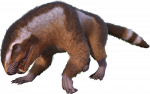 People can only do this tranquilizer if they were in maujak mountains where they would have the beaver or on other maps also like cold valley (ccv).

In these rivers or lakes, the Titanoboa would have a prehistoric snake where it would drop one of the items to make this tranquilizer.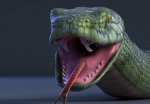 This would also cheer up old players and those who are max level 55 instead of bringing new levels bring new ideas, which would interte these players and everyone else in the game.
Well those were the ideas I'll keep posting in parts, thanks to everyone who plays Dino Storm and Splitscreen Games for making this amazing game that everyone loves and to all the game developers and the Game Masters (Gms)! A big hug have a good week.
@Faye @NaY Etc... <3