Joined

Feb 28, 2012
Messages

896
Reaction score

2,277
Game Update July 13, 2021
Between
8:30 AM and 9:30 AM UTC+2
, the game servers will restart for a game update to be deployed.
Event Logbook
The Lookbook is the new place for event achievments and for the progress history for all previously participated events. This allows better data handling and is as well a preperation for the upcoming updates.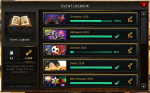 Added the event logbook to seperate the achievement points from the event points
Now users have two seperate scores in the achievement window and in the player profile.
The Logbook will show all events the player has participated in and what progress he made.
It also will offer direct access to the currently running event achievements with a button from the logbook for quick access.
Logbook will be populated for the user after login the first time after the update and later by an conversion event during server runtime
Event achievements will not be listed in the achievement window anymore.
Improvements
Backend adjustments for better world event handling.
Major performance & memory footprint improvement on the server

For the client it will be noticable that after a server restart it will be faster to open shop windows, achievement window, everthing with a lot of objects inside etc.
Bug Fixes
Fixed that the expire time was not shown on the client for old dinoball event items.