Joined

Nov 18, 2015
Messages

238
Reaction score

302
Server

Europe_1
Main Char

M X Power
Clan

Extra Power
Description:
Every now and then when a new update comes out with "New Skins", some of our already existing skins receive random adjustments, which is sometimes undesired. Which makes me only believe that while coding your new skins, you do it based on these already existing skins to make new ones, without making sure that you keep the original skin as it is.
This was the last straw that broke the camel's back. With our Slim skin (Black & Orange) being automatically changed to Slim Skin (Orange & Grey) during the last Fred Ex "Traveling Trader" event update. Some of my personal friends have already filled ticket complaints, but they have not received an answer for over a month.
Kindly reverse back our slim skins back to how they were in Screenshot [1], as this is what we have wasted our gold coins on, and try figure out what is really causing this issue, to make sure it doesn't repeat again.
PTR Version:
N/A
Avatar Name:
N/A
Screenshots:
Screenshot Number [1]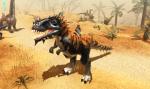 Screenshot Number [2]